Blog Archive

Tuesday, September 1, 2015
12:24 PM
|
Posted by Sabrina Ford
|
|
Edit Post
Title: The Sinful Trilogy
Published: June 29th, 2015
Publisher: Parker Publishing Inc.
Genre: Fantasy, Paranormal
Content Warning: Explicit sexual content and violence
Sweet As Sin (book 1)
Brought together in the aftermath of WWI, a lethal, war hero and a beautiful, seductive heiress are forced into a marriage neither wants.
Captain Drake Devilin fought with honor and survived a brutal war only to return home to find his parents dead under scandalous circumstances and his grandfather determined to restore the family honor and fortune.
Sienna Caldwell wants to trust her father's decision to marry her to the charming playboy, but realizes the life she yearns for may never be hers. Faced with secrets upon secrets, she can do nothing to change the future. With her father's blessing she puts herself into the handsome Drake's care.
While Drake struggles to keep his bride alive, Sienna battles to keep her heart intact even as a magical world of myth and horror opens before them. Drake realizes the woman he married is more powerful than he imagined as he fights for her soul and their lives against an unimaginable evil.
Devil's Play (book 2)
Snuggled within the warm embrace of marital bliss, biologically altered army Captain Drake Devilin and his supernatural bride, Sienna, face their biggest challenge to date. Called back for duty in World War II, Drake must leave his amazing life behind and join his troop to fight the Nazis. Although he's certain his new mission is merely a rouse to obtain his most precious commodity, his wife, Drake leaves, but not before giving Sienna a magical necklace in the hope it will protect her against unknown enemies.
Lured from her prosperous island by a sorcerer who is convinced she was always meant to be his bride. Sienna is challenged to play three magical games to ensure her husband's safe return. In each game, a limited time is given to Sienna to immerse herself into a new world, situation, and persona; find Drake; and have him acknowledge her by name. And she can't use her powers to make it happen.
Everything dear to Sienna's heart is put in jeopardy. Willing to fight for the love of her life and her happiness, Sienna takes on the sorcerer in his own game of cat and mouse.
Sinfully Ever After (book 3)
Experimented and tested on by the Nazis, Captain Drake Devilin and his troop of beasts are made into something unholy. Unwilling to serve as a guinea pig for the government any longer, Drake has only one thing on his mind … his beautiful wife, but instead finds himself involved in a war of the supernatural kind. The pressure mounts when Drake uncovers that a stranger from Sienna's past is responsible for the rash of supernatural crimes plaguing an underwater city.
After beating an evil sorcerer at his own game, Sienna Devilin awaits her husband's return from Germany. Once Drake Devilin arrives, Sienna can tell something is different about the captain. Moody and temperamental, Sienna doesn't know what to think when he turns down a fight to help with a fresh crop of engineered monsters.
With World War II in full swing, Drake is unable to talk his wife out of their new obligation. Sienna is more determined than ever to fight off demons from her past and monsters in their not too distant future.
Read FREE with Kindle Unlimited
Excerpt from Sinfully Ever After by Kenya Carlton:
Light snow fell to the earth. The flakes melted nearly as quickly as they landed. Drake welcomed the fresh air. Yards from the house he tracked his wife's scent near the horse's paddock. Sienna stood under the full moon in front of the big animals that grazed by the fence. He worked his way past the medical tents to join her. Pretty and peaceful, it was no wonder she came to the pasture since dinner had been a complete and utter disaster. Murphy and Barker joined them for a marvelous evening—along with their wives—for screaming, cursing, and his personal favorite…crying. Murphy's spouse, Evie, called him every name and then some, while Alex, Barker's wife, sat in her seat softly sobbing. Somewhere before dessert but after dinner Sienna snuck off. "Dear wife," he whispered in her ear before he placed his coat over her shoulders. "I will extend to you my sincerest apologies for not being forthright, but you must promise to never make me sit through anything similar to that again." Confident he wouldn't be turned into a toad when she gifted him with a laugh he pulled her back into his chest. "They're worried about their men." "I gave them a choice this afternoon." Drake buried his nose into the careless curls constructed on top of her head. "It is out of my hands," he murmured, submerging himself in her sweet scent. "Evie and Alex are not angry at you per se. They're mad at the amount of loyalty their husbands display toward you and their country." "I am not the villain here." He sighed. "Am I yours?" Sienna turned in his arms. Slow drifting snow caught on her long eyelashes, illuminating her beautiful face. He captured her lips, and attacked her sweet mouth. Only for a moment, he thought to himself before he released her. "Why did you stop, Captain?" She continued to tempt him with tiny kisses to the underside of his chin. "Afraid you'll lose your mind?" The sum of her powers were too great for one person alone. Extreme anger or sadness could send her into a downward spiral. It had taken Sienna years to learn how to control the balance of her emotions. Otherwise, the sanctity of her sanity would be put into question. Drake remembered all too well the time she nearly went mad. "I was falling in love with you," she replied to the thoughts in his head. Drake felt that she was wrong and it was the other way around. His raw need for his wife almost certainly sent her over the edge. Every time he got too close another spark of magic would course through his veins. He couldn't imagine what a huge wave of her power would do to him. "Tell me, Captain, are you afraid of the devil in me or is it the devil in you?" Sienna rose on the tips of her toes to kiss the side of his mouth. Weeks had gone by where he didn't think he would ever see her again. Drake felt the soft palm of her hand caress his face, while she sweetly nipped at his neck. Regardless of his wants or needs, he understood what was at stake for the both of them.
Follow the Author:
There is a tour wide giveaway. Prizes include the following:
Giveaway is International.
a Rafflecopter giveaway
Tuesday, August 25, 2015
1:02 AM
|
Posted by Sabrina Ford
|
|
Edit Post
Today on my blog I have the Aqua blog tour. On my stop there is a spotlight and  review. 
Publication Date- April 16th, 2014
Novelist (unpublished, but cut her some slack…seventeen is a bit early to despair),
Slightly neurotic introvert (Alright, let's be honest…there's no "slightly" about it),
International Woman of Mystery, and…
Okay, just scratch the bio.
The only real "mystery" in Layla's life is why her father has never been on the scene.  Or why her mother drags Layla to a new coastal home every year.
Nothing about the latest hometown seems too newsworthy…until a routine day at the beach leaves Layla questioning whether she's read one too many paranormal fantasy novels.  The plot thickens when a random guy claims to know things about her father—a bizarre claim he backs up with an equally impossible stunt.  And Layla soon finds herself on the wrong side of a mysterious attempted drowning…on her own kitchen floor.
When all is done, Layla will attest that fact is far stranger than fiction.  And nothing in real life is ever as transparent as it seems…Not even water.
Review: 
I loved this story so much! M.A. George's writing is so descriptive that I felt as if I was part of her underwater world that she had created. The way she created the human body into the aqueous body was done so cool and she describes it so well that I could imagine it perfectly. I loved the main characters so much. Layla is such a strong heroine and I connected to her immediately and the fact that Tristan is flawed only added to him and made him much more human to me. There is so much I love about this book from the world that was created, to the love story, the action, and even flawed characters that I am hooked and can not wait for more from M.A. in the future as I am now a huge fan. 4/5 Bloody Fangs
Wednesday, August 19, 2015
12:11 AM
|
Posted by Sabrina Ford
|
|
Edit Post
Today on my blog I have the Frost Series blog tour. On my stop there is a spotlight and review. 
First Frost
The Frost Series Book # 1
Publication Date- June 22nd, 2015
Published By - Indie Gypsy
Fairytales aren't real…yeah…that's exactly what Bianca thought. She was wrong.
For generations, the Frost family has run the Museum of Magical and Rare Artifacts, handing down guardianship from mother to daughter, always keeping their secrets to "family only."
Gathered within museum's walls is a collection dedicated to the Grimm fairy tales and to the rare items the family has acquired: Cinderella's glass slipper, Snow White's poisoned apple, the evil queen's magic mirror, Sleeping Beauty's enchanted spinning wheel…
Seventeen-year-old Bianca Frost wants none of it, dreaming instead of a career in art or photography or…well, anything except working in the family's museum. She knows the items in the glass display cases are fakes because, of course, magic doesn't really exist.
She's about to find out how wrong she is.
Tuesday, August 18, 2015
1:32 AM
|
Posted by Sabrina Ford
|
|
Edit Post
Today on my blog I have the From The Mountain blog tour. On my stop there is a spotlight, excerpt, review, and guest post.
Series: Mark of Powers (Book 1)
Genre: Young Adult Dystopian Fiction
Publisher: Self Published
Release Date: February 14 2015
Edition/Formats Available In: eBook & Print
What would you do if you were one of the last of your kind on earth? Sixteen year old Teak's Mark of Power has kept her alive, but will it last? Although she is a trained killing machine, it isn't by choice. Slated to be one of Siv Gareth's elite soldiers, her life seems to be on course, but she has a decision to make. Does she follow her father's wishes and become a soldier, or chase after her own dreams of training dragons? Persecuted, shunned, and tortured because of her skin color, Teak is mad, and somebody is going to pay for it. Siv Gareth's race war has just begun, and now that the Purity Law has passed, the Destroyers are out in hordes to kill her and any others with light skin. When she shoots an arrow at Siv Gareth, a chain of events unwinds that ultimately threatens her very existence. Accustomed to going it alone, Teak finds herself on a long journey with a group of inept teens, and she must learn to depend on them…or die. When two boys enter the scene, one irritating and the other mesmerizing, Teak wonders if she has a shot at a normal life. But will her lack of Power and skin color ruin it? This dystopian society novel, Book 1 in the Mark of Power Series, is riveting with suspense, action, betrayal, and the brimming hope of romance.
The man-made mountain was situated next to the ocean, waves crashing violently against it as if they knew it didn't belong there. At the very top of the mountain perched a mansion, formed of smooth purple rock, so rare that it glistened against the occasional sunlight. It was built like a castle, with turrets and windows, even a moat of salty brine water bleeding in from the ocean.
A prison was nestled at the base of the mountain, sections of it actually winding into the packed earth of its lowest parts. Soldiers, dressed in red uniforms stood at attention before its doors, long swords swinging from their belts. Further out from the mountain, was an area they once called Presidio, housing the privileged…in mansions as glorious as the one on top of the mountain…made of stone or rock, precious metal, the highest quality of wood. The government officials lived there, although they were few now. The healer. The Elite Army. Those with Power. And of course, the Destroyers.
I love dystopian books but one with dragons and I am hooked! I seriously love dragons and will read anything with them. Then you through in this world that L.L. has created and you have my heart breaking for the heroine Teak. She is so strong and there is no way I would want to live in the world she does. ANd I mean you actually feel everything with how well L.L. writes. I felt as if I was in this story right along with Teak. I was completely hooked in this heart breaking action packed dystopian world and I can't wait for the next book. 4/5 Bloody Fangs
Cupcakes and Characters

(Choose 4 of your Characters and tell us what their favorite cupcake is and why)
Teak - vanilla with vanilla frosting, because she is one of the only Light Skins left alive. She learns to embrace her "vanillaness" throughout the book series.
Koree - chocolate with chocolate icing because he is so serious and doesn't want to stray from what he knows and likes.
Thann - vanilla with raspberry filling and confetti frosting, because he is always having fun and needs something wild and exciting.
Echo - an entire tier of different flavored cupcakes of every flavor and an assortment of different icings because she was raised poor with five older brothers and never had the chance to get sweets or anything other than just the essentials.
L.L. Crane lives in a remote area of Northern California with her two horses, six goats, three dogs and two cats. When she was a child, L.L. Crane dreamed of being a writer. She used the name, "Katie Bush" as a pen name for the famous writer she hoped to become, cranking out book after book on her mom's old blue typewriter.
As life often has twists and turns, L.L. Crane found herself becoming anything but a writer. She graduated with a B.A. in Education, even though she was honored to begin her college career with the aid of writing scholarships.
After becoming a teacher, raising three children primarily on her own, as well as owning and operating a business, L.L. Crane finally pursued her dreams and began writing novels. She brings her own experiences from teaching and her love of animals to her stories.
L.L. Crane is an avid reader and writer and loves children, animals, reading, riding horses, and gnomes.
Thank you for stopping by my blog today. I would also like to say Thank You to L.L. for letting me review your book and for your guest post and say Thank You to RBTL for letting me participate in this blog tour.
1:11 AM
|
Posted by Sabrina Ford
|
|
Edit Post
Juliana
Genre-
LGBT/Literary Fiction/Historical
Expected Publication Date-  September 14, 2015
It's 1941 and Alice "Al" Huffman comes from the potato fields of Long Island with her childhood friends to make it on the Broadway stage, only to find she has no talent. She meets Juliana, the glamorous, perpetually-on-the-brink-of stardom nightclub singer whose voice sounds to her like "warm milk slipping down the whole of my body."
Juliana, a sexual risk-taker with a secret, easily reels in a mesmerized Al who has never felt a love like this before.  Al is determined to hang onto Juliana no matter what. The only problem is that Juliana is more a woman of her time than Al could ever have expected.
Through Juliana, Al enters a secret world that includes men who wear frilly bathrobes and grass skirts and women who smoke cigars and wear pants with the zippers in the front.  Cameo appearances are made by Liberace, Ethel Merman, Talulah Bankhead, Lauren Bacall, Angela Lansbury and other 1940s celebrities.
Wednesday, August 12, 2015
12:09 AM
|
Posted by Sabrina Ford
|
|
Edit Post
We are absolutely thrilled to bring you the Cover Reveal for Molly McAdams' TO THE STARS! TO THE STARS is a Contemporary Romance and is the 2nd book in the Thatch Series, published by William Morrow, an imprint of HarperCollins. It is due to be released on November 17th, 2015! Pre-order your copy today!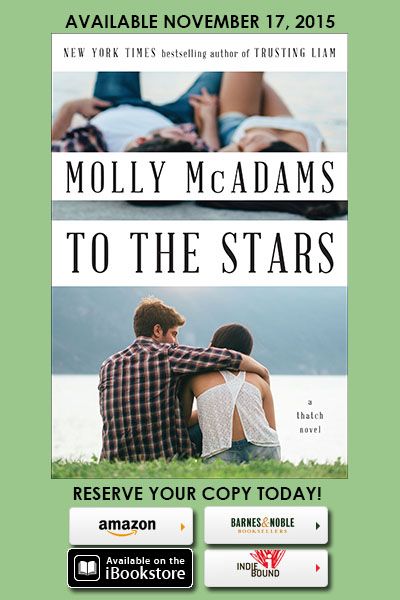 Pre-Order Your Copy Today!
About TO THE STARS: In the second book in New York Times and USA Today bestselling author Molly McAdams' Thatch series, Knox Alexander must convince his long-time love Harlow Evans that they're meant to be together. He promised to wait for her. She told him he was wasting his time. Not waiting for him ended up being the biggest mistake of her life. When they were younger, Knox Alexander swore to Harlow Evans that he would wait for her to turn eighteen so they could be together. But that was two and a half years away, and Harlow couldn't ask him to give up all the fun and thrills of going away to college for her. As the years passed, Knox remained a constant in her life—whether she liked it or not—but when her eighteenth birthday came around, Harlow's heart belonged to someone else. Every day for the last four years, Harlow has been haunted by that fateful choice. And though he may appear unaffected by what happened in their past, Knox has always tried to fill the void Harlow left. But when he comes stumbling back into her life and refuses to leave, will Harlow finally let him into her heart…?
And don't miss the first book in the Thatch Series…
LETTING GO
About Molly McAdams: Molly grew up in California but now lives in the oh-so-amazing state of Texas with her husband, daughter, and fur babies. When she's not diving into the world of her characters, some of her hobbies include hiking, snowboarding, traveling, and long walks on the beach … which roughly translates to being a homebody with her hubby and dishing out movie quotes. She has a weakness for crude-humored movies and fried pickles, and loves curling up in a fluffy comforter during a thunderstorm ... or under one in a bathtub if there are tornados. That way she can pretend they aren't really happening.
Saturday, August 8, 2015
12:14 AM
|
Posted by Sabrina Ford
|
|
Edit Post
Today on my blog I have Kitty Saves the World blog tour. On my stop there is a spotlight, guest post, review, and giveaway.
Title: Kitty Saves the World
Series: Kitty Norville Series (#14)
Genre: Paranormal/Urban Fantasy
Publisher: Tor – Forge (Imprint of Macmillan)
Release Date: August 4, 2015
Edition/Formats It Will Be Available In: eBook & Print (Mass Market)
It's all come down to this, following the discoveries made by Cormac in Low Midnight, Kitty and her allies are ready to strike. But, when their assassination attempt on the evil vampire Dux Bellorum fails, Kitty finds herself running out of time. The elusive vampire lord has begun his apocalyptic end game, and Kitty still doesn't know where he will strike.
Meanwhile, pressure mounts in Denver as Kitty and her pack begin to experience the true reach of Dux Bellorum's cult. Outnumbered and outgunned at every turn, the stakes have never been higher for Kitty. She will have to call on allies both old and new in order to save not just her family and friends, but the rest of the world as well.
Review:
This is such a hard review for me to write as I am so sad this series is ending and anything I write I feel like I will spoil it for people. So for all of you who fell in love with a werewolf named Kitty than you will be like me on my feelings. I am sad it's ending but Carrie definetly delivers a kick ass book that you will fall in love with. It has everything in it that we have come to love in the Kitty books. It is full of action and some surprises I didn't see coming. But as with all these books I thought it was absolutely amazing! And since I love it so much I am giving 10/10 Bloody Fangs
Can you give us a hint at what you have planned next?
That's a big question. I have so much planned. . .but not a lot I can really talk about right at the moment. Part of the business, unfortunately. I can say that my next book after Kitty Saves the World is called Study Abroad, and it's a young-adultish story about Polly, who grew up on Mars and is now being sent to Earth for school, much against her will. So, a complete change of pace from the Kitty series! But that's what makes it fun!
I'm also hoping to write more stories about Cormac, who is arguably the most popular character from the Kitty series after Kitty herself; and Rick the vampire. He's got five hundred years of backstory I haven't really told yet.
I also have my Harry and Marlowe series of steampunk short stories I'm continuing to work on. For more information about all of these, folks can check my website at www.carrievaughn.com, or my blog at carriev.wordpress.com.
I'm always working on something new, and always have about ten projects lined up. Too many ideas and too little time! I'm so fortunate to have a bevy of readers who have encouraged me to keep going, and it's thanks to them that I've made it all the way to Kitty Saves the World, and can now say I have a fourteen-book series under my belt. Thanks, guys!
And thank you for the chance to write a guest post for you!
In addition to being the New York Times bestselling author of the Kitty Norville books, CARRIE VAUGHN is also the author of the standalone novels After the Golden Age, Dreams of the Golden Age, and Discord's Apple, and the young adult books Voice of Dragons and Steel. Visit her online at http://www.carrievaughn.com/
Website Carrie Vaughn's Virtual Playground
Author's Other Works
Kitty Norville Series
Stand Alones
Golden Age
Anthologies
Thank you for stopping by my blog today. I would also like to say Thank You to Carrie for letting me review your book and for the guest post and say Thank You to RBTL for letting me participate in this blog tour. Don't forget to enter the giveaway below.
About Me
Sabrina Ford
View my complete profile

Sabrina
has read 6 books toward her goal of 100 books.